My Perennial Border
This is what is left of my huge (for me) perennial border. My border covered the area from the new tool shed (Christopher Robins House) to the potting shed area (Eeyore's Thistle Patch), the new border (Eeyore's Special Place), the Gazebo (Pooh's Thoughtful Spot), up to and including my perennial border, lilies and hosta and to Fragrant Walk or Benjamin's Place. I was very ill 5 years ago and never got back on track. The garden went to rack and ruin, so we decided to revamp the whole border adding bones to the garden with structures. We had great clumps of weeds and perennials and a herb with nasty take-over habits. Obedient plant (physostegia virginiana) and tarragon are both relatives to mint and have the same annoying habits. They marched through the beds taking no hostages. The obedient plant even killed a hosta. We also had Chinese lantern (Physalis) everywhere. They are all gone now, I hope. I have this smallish

border now, much easier to handle. I have climbing up the fence on a recycled lattice work various colours of Clematis. They made the transplant nicely - lots of blooms. In front of them I have delphiniums, lupines and hollyhocks 'Chater's Double Mix' (Alcea Rosea). In front of those I have fox gloves (Digitalis), astilbe, maltese cross (Lychnis chalcedonica), bleeding heart (Dicentra), evening primrose (Oenothera missouriensis), irises of various colours, a peony (Paenoia) 'Rose Double', shasta daisy, black eyed susan, coral belles with 'pinkie red flowers' and a heuchera 'Palace Purple'. Here and there I have let forget-me-nots and violets reseed themselves. In the very front I have this year the lobelia, alyssum, and celosia (cockscomb) 'rainbow mix' and behind them 5 miniature roses (scarlet, pink, fuchsia, red and soft pink). I want to look for some perennials that are very short or ground cover types for the front. I'll have to do more study on these this fall and winter. Sorry for not having all those botanic names, I should have, but a lot of the plants I inherited or were given to me without the botanic names. I didn't keep the tags on the ones I bought. Stephanie gave me a lovely statue of what we are calling a 'Family Hug'. It is three people in a circle holding a bowl. I think I will place a candle in the bowl to light at night. Some of the plants are a disappointment as the area gets more shade than I thought it would and so I may have to transplant and replant more shade tolerant plants next spring. Maybe it was El Nino. The bulbs are a top priority in the fall. I want to plant some more again.
Fragrant Walk: Benjamin's Place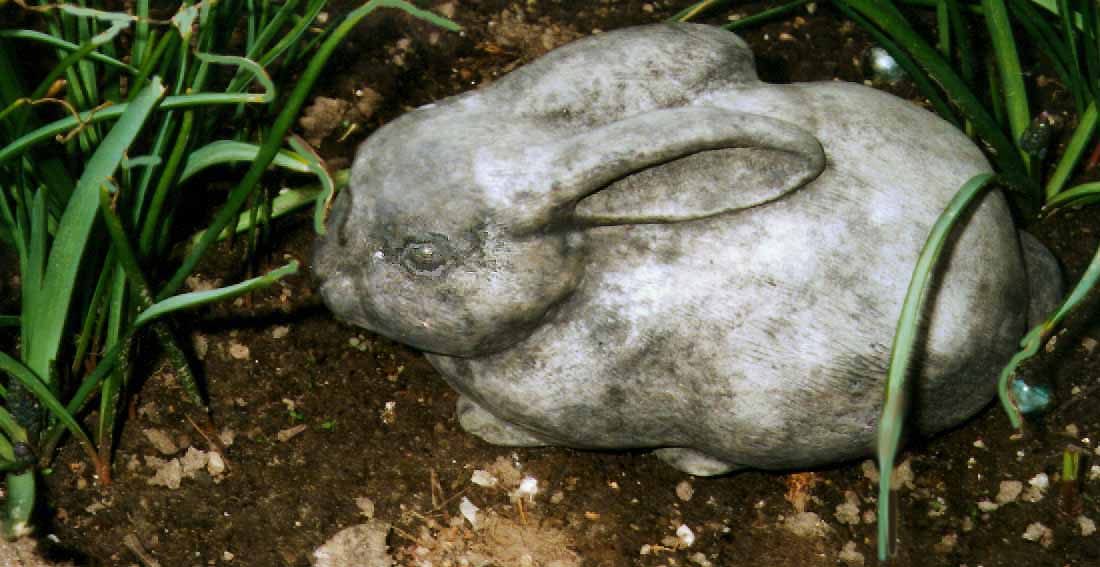 This section has stayed mostly the same for a number of years. I have the original yellow and brown day lilies. We have climbing rose bushes (red, pink and white), great big hostas, a mid green one with tall mauve flowers, clove currant bush (Ribes odoratum), lilacs (Syringa), two kinds of mock orange (Philadelphus)- a chartreuse and a dark green leafed kind. Underneath are lily of the valley, more hostas (chartreuse hue), a columbine (The one I have is Scarborough's official flower. We really live in Scarborough but more people have heard of Toronto), primroses, violets, dusty miller and two kinds of ground cover (dragon's blood ) and one I don't know what its name is, creeping jenny . I have a small statue of a sweet rabbit I call Benjamin Bunny, Benny for short. I have a small verdigris bird feeder on a stick (there is a shell and a small bird sitting on it) and a sign in the same verdigris that says "Old gardeners never die they just spade away". In the spring I have bulbs, white grape hyacinth, scilla, crocus' and snowdrops. I want to put more of them in in the fall. This spring it was one lovely fragrance after another. First came the hyacinth, then the clove currant (really smells of cloves), next the lilac, next the lily of the valley and last the mock orange. Wonderful!!
On with the tour click here8
Back to Garden Town
We love to hear from you .
.
Last updated October 3, 2000
---
Toronto Web Solutions Inc.
Division of 1065788 Ont. Inc.

©1999-2000 Content & Logo
---