Welcome to the
Whimsical Gardener's Page !
from the Whimsical Garden 2001

---
(];-) I always wear a hat in the garden in summer.
Just before we begin our tour: I had a beautiful perennial border in the backyard with all the seasonal colours coming forth season after season. I got sick about five years ago and everything went to rack and ruin. There were more weeds than plants and the seasonal bloom had to come from annuals I placed in large plastic terracotta coloured pots. It was about all I could handle at the time. Now I feel better and Klaus and I decided to revamp everything to get a new perspective on life and the gardens. I could also have called this page a work in progress or the Views From The Gazebo. So here we go.........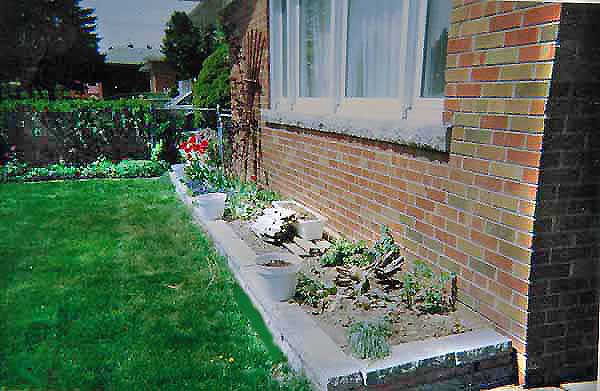 Frontispiece
We have been very busy revamping the front and backyard gardens. It started out with cutting out two huge Hick's yews in the front garden so we could plant 'John Cabot' climbing roses, explorer series . It opened up the front garden so now I can plant some perennials and some annuals. I have three pots and a long planter box that I plant annuals in. Usually the long planter has in the middle a dracaena, on either side of it are scarlet geraniums 'Samba', lobelia 'Crystal Palace' ( favourite of mine), dusty miller 'Silver Dust' and alyssum 'Wonderland White'.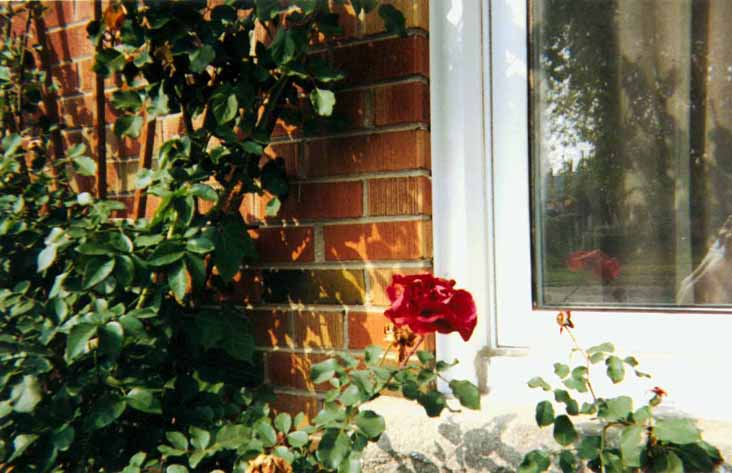 The garden itself has a mixture of spring flowering bulbs. Snowdrops, crocus's in various colours, grape hyacinths (blue), daffodils and great big Darwin tulips 'Red Emperor' . I am adding more of everything in the fall so the whole area is covered with bulbs. Now the yews are gone I have room for irises, shasta daisies, more perennials and annuals. I have a lovely climbing rose 'Don Juan'. It is deep red and very fragrant. The blooms look like hybrid tea roses. I want to put more perennials in the border. We are doing so much that I will leave that until next spring or maybe fall when I plant the bulbs. We have four hedges to deal with and only one is ours. It can be hard since everyone has their own idea about their hedge....only fair but each one has different rules of cutting, etc.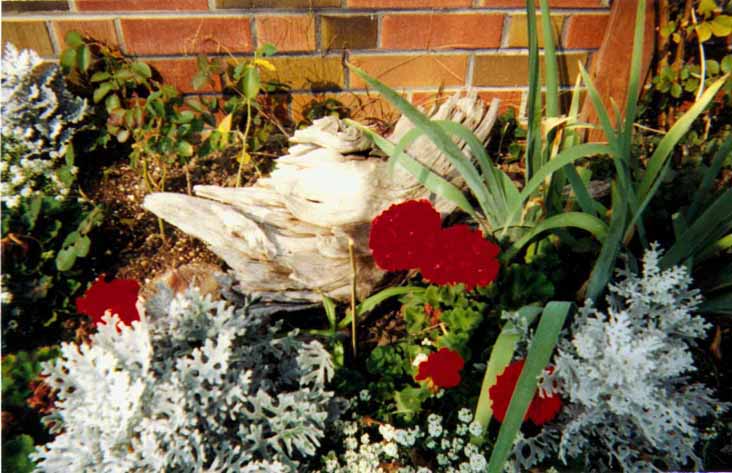 Currantly Hedging My Bets
The first strip is a currant hedge (not ours) with some of the same annuals as the frontispiece. The geraniums, lobelia ( these will have to be replaced as a naughty bug thinks they are a great snack and currently are no more.), dusty miller and alyssum, periwinkle (vinca) and violets are slowly taking over the strip (I want this to happen since the strip is so narrow. It's hard to make a good show). This is my plan: to have a lot of the garden that takes care of itself, so to speak. In the spring there are scillas (blue). This is as good a place as any to tell you about the scallop potatoes. I think Klaus has caught my whimsy theme. For some reason or another he started calling the scallop border tiles we have here and elsewhere Scallop Potatoes. The name has stuck so we have "scallop potatoes" for border tiles. Our new walkway starts here. We have red brick done in a basket weave pattern bordered on one side with scallop potatoes and the other 4" x 4" lumber, then lawn. It continues up past Herbal Walk on one side and Host of Hostas on the other, further along to Got A Lota Terracotta, Racoon Place, then by Ba Ba Lambs Ears to Christopher Robin's House (tool shed) and finally meets up with the concrete slabs behind the tool shed and screened in area.
On with the tour click here8

[ Sign my GuestBook ] - [ Read my GuestBook ]
[ GuestBook by TheGuestBook.com ]

Last updated May 15, 2001
---
Toronto Web Solutions Inc.
Division of 1065788 Ont. Inc.


©1999-2003 Content & Logo
Here are The Webrings I belong to:
The Friends of The Garden SiteRing

This site owned by
CATRIONA