At Christmas time
I call this
the Poinsettia Room
I did this one for Stephanie.
She loves Angels
They have all different
colours

of the

Poinsettia plants
to enjoy.


Norfolk pine with lovely, red Christmas balls.
White and red cyclamen in front of it.

Ivy trained in tree form.

The classic red poinsettia.
always so cheerful.




It is hard to see but this is a lovely ivy doggies with appropriate bow.

Lovely standard white Poinsettia





Poinsettia among the crotons.

One of the gardeners taking care of the plants.

After scanning and looking at all the pics again. I really want to go back and take some photographs of the new exhibit. I hope I feel good enough to do it. The staff and the volunteers all do a great job to make sure the greenhouse always looks it's best.



Another view of the angel
It is so sweet.
Christmas
2000
had what I call the
Shy One
in the centre bed
and a beautiful
Hobby Horse
Topirary
in behind it.
We arrived a week to late to see
their poinsettia tree
set up at the entrance area.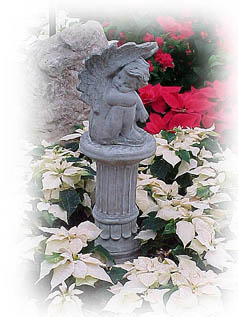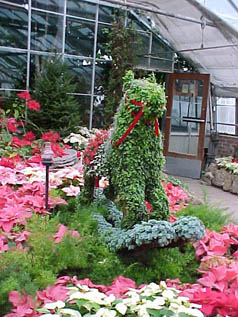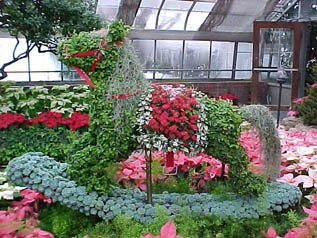 Navigation bar for the greenhouse shows further down the page.


We are pleased to show you some Night-time
photographs taken by
Scott Nisbet the greenhouse foreman

We went to see what was up at the conservatory and Scott the greenhouse foreman was there. He looked at us and said "Website!"...and mentioned that he had taken pictures of the conservatory at night.He asked me if we would like him to email them. We of course wanted to see them and put them up .These are is photographs.
Very Nice Indeed.
Thank you Scott
for the lovely view.

We have added new photos to some of the pages why not take and virtual tour and when in the neighboroughhood take a real tour and enjoy the lovely flowers in all their glory and delightful fragarence. :-)